FullCharge

How would you like the convenience of rechargeable batteries without the hassle of having to swap them when they run low? The FullCharge for the Handspring Visor now gives standard Visor, Deluxe, and Platinum owners the same rechargeability as Prism owners (well, almost).

One of the often heard complaints about the Visor is its lack of rechargeable batteries. Sure, you can go out and buy some along with a decent charger, but you need to remove the batteries to recharge, meaning you always need a fully charged spare set available (a common sense thing to do anyway).
 The FullCharge for the Handspring Visor by extend Computer & Instrument is a 550mAh Nickel Metal Hydride (NiMH) battery pack that can be recharged in the Visor without having to make any hardware modifications, and it won't void your warranty.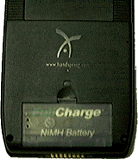 All of the FullCharge kits include the battery pack and an ice colored battery compartment cover. The cover is identical to the original one except that it has 2 holes drilled in it for connecting the charger to the battery pack in the Visor. I'm guessing that eXtend supplies the cover only in ice so that it will match all the available Visor casing colors (ice, graphite, and silver) as well as allow the FullCharge logo on the battery pack to show through. It certainly looks good on my ice VDx!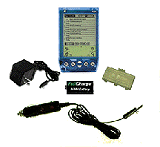 Three different FullCharge kits are available. The Standard Kit ($34.95) comes with a 110-volt AC wall cube adapter, the Mobile Kit ($34.95) comes with a 12-volt auto lighter adapter, and the Power User Kit ($54.95) comes with both adapters. The AC and auto adapters are also available separately for $24.95 each and extra FullCharge battery packs can be purchased for $19.95.
An additional benefit of the FullCharge over other batteries (regular or rechargeable) is its ability to provide power to the Visor while in use. The microprocessor in the charger senses when the Visor is on and provides additional current so that you can still recharge while using the Visor. This is very useful, for example, when working on lengthy documents with a Stowaway, online sessions with a Thinmodem or Minstrel wireless, or if you just want to listen to your favorite tunes with the MiniJam or SoundsGood. And just think what the auto adapter can do when using your favorite GPS module or device in your car!. One important note to make is that the FullCharge will not provide charging voltage to a Springboard module with onboard rechargeable batteries. That requires a cradle or HotSync connector that supplies the necessary voltage on pin #7 (Prism owners have that advantage with the cradle or Travel Charger). This also means that an accessory like the Tech Center Labs Emergency Charger cannot be used with the FullCharge, either.

User Opinions


| | | | |
| --- | --- | --- | --- |
| | 81% | | 19% |
21 votes registered




Update: Auction Update / VisorAdventure 2
Thu Oct 11 - 12:05 AM EST

InnoGear PowerCradle (updated)
Tue Oct 9 - 10:51 PM EST

iambic Office suite
Thu Oct 4 - 1:12 AM EST

Prism dropped to $299
Tue Oct 2 - 6:19 PM EST

New Portable Keyboard
Tue Oct 2 - 4:46 PM EST