New Edge case from RhinoSkin
Wednesday May 23, 2001 - 3:59 PM EST - By Marcus Adolfsson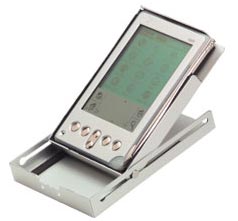 RhinoSkin today announced a number of new additions to their line of Titanium, Aluminum, Leather and Synthetic PDA cases, each of which is designed specifically for individual handheld computer devices.

Among the new cases is a Visor Edge specific version of their Aluminum Slider Hardcase.
Patent-pending slider action

Cover slides under base for singular footprint

100% Anodized Aluminum--No plastic!

Anodized, scratch-resistant finish

Easy stylus access

Rigidity for protection against crushing

Neoprene interior for protection against drops/collisions

The Aluminum Slider Hardcase is dimensioned specifically for the Handspring
Visor Edge

Size: (5" x 3.25" x 0.75") Weight: approx. 4 oz

The case costs $59.95 and is currently available.







Update: Auction Update / VisorAdventure 2
Thu Oct 11 - 12:05 AM EST

InnoGear PowerCradle (updated)
Tue Oct 9 - 10:51 PM EST

iambic Office suite
Thu Oct 4 - 1:12 AM EST

Prism dropped to $299
Tue Oct 2 - 6:19 PM EST

New Portable Keyboard
Tue Oct 2 - 4:46 PM EST

Body Massager Module (updated)
Tue Oct 2 - 4:38 PM EST

Module Madness
Tue Oct 2 - 4:34 PM EST

New version of FlashAdapter software
Mon Oct 1 - 11:02 PM EST

Get Documents To Go with Visor purchase
Mon Oct 1 - 10:42 PM EST

SnapNType initial impressions
Fri Sep 28 - 10:11 PM EST

What's this? A new poll?!
Fri Sep 28 - 9:57 PM EST

Palm Desktop for Mac OS X by "the end of the year"
Thu Sep 27 - 2:36 PM EST

Going Corporate: Handspring partners with Aether
Wed Sep 26 - 6:19 PM EST

SnapNType Mini-Keyboard Available
Mon Sep 24 - 5:19 PM EST

Blazer 2.0 Beta
Mon Sep 24 - 4:42 PM EST