OmniSky available at Office Depot
Tuesday May 29, 2001 - 11:17 PM EST - By Marcus Adolfsson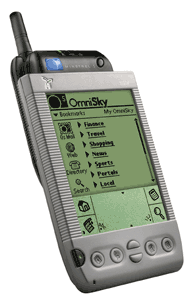 OmniSky announced today that it has signed an agreement with Office Depot to sell its wireless service in more than 500 Office Depot locations around the country.

The OmniSky wireless e-mail and Internet service is now available at nearly 2000 retail, online and direct locations, letting mobile professionals purchase the OmniSky service where they choose to shop.

The agreement extends the number of Office Depot stores where the OmniSky service is available to more than 500 nationwide. With the availability of OmniSky in Office Depot retail stores, OmniSky further establishes itself as the most widely available wireless, device-independent service for Palm and Pocket PC devices.

Office Depot will carry the OmniSky wireless modem and service for the Palm V and Vx, Handspring Visor Platinum, Visor Prism and Visor Edge, and a special bundle for the Hewlett-Packard Jornada 540 and 520 Series Pocket PC that includes the OmniSky service and Novatel modem.

"Our distribution strategy is to make it as easy as possible for mobile professionals to purchase our wireless service where they like to shop, and Office Depot is one of the nation's premier shopping destinations for technology-savvy buyers," said Andy Simms, OmniSky vice president of sales for the Americas. "Customers can have the convenience of one-stop shopping from a well-respected, customer-oriented retailer who is committed to delivering a positive buying experience."

"As more and more of our customers rely on wireless products and services, we are pleased to be able to offer OmniSky's award-winning service," said Steve Embree, executive vice president of merchandising for Office Depot.






Update: Auction Update / VisorAdventure 2
Thu Oct 11 - 12:05 AM EST

InnoGear PowerCradle (updated)
Tue Oct 9 - 10:51 PM EST

iambic Office suite
Thu Oct 4 - 1:12 AM EST

Prism dropped to $299
Tue Oct 2 - 6:19 PM EST

New Portable Keyboard
Tue Oct 2 - 4:46 PM EST

Body Massager Module (updated)
Tue Oct 2 - 4:38 PM EST

Module Madness
Tue Oct 2 - 4:34 PM EST

New version of FlashAdapter software
Mon Oct 1 - 11:02 PM EST

Get Documents To Go with Visor purchase
Mon Oct 1 - 10:42 PM EST

SnapNType initial impressions
Fri Sep 28 - 10:11 PM EST

What's this? A new poll?!
Fri Sep 28 - 9:57 PM EST

Palm Desktop for Mac OS X by "the end of the year"
Thu Sep 27 - 2:36 PM EST

Going Corporate: Handspring partners with Aether
Wed Sep 26 - 6:19 PM EST

SnapNType Mini-Keyboard Available
Mon Sep 24 - 5:19 PM EST

Blazer 2.0 Beta
Mon Sep 24 - 4:42 PM EST