Buy VisorCentral Gear!
Tuesday June 5, 2001 - 3:35 AM EST - By James Hromadka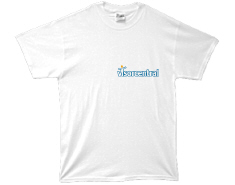 You read the website -- now own the T-shirt! We now have T-shirts, coffe mugs, etc. that are available for purchase through Cafe Press.

Own a T-shirt, sweatshirt, mug, or mousepad with the new VisorCentral logo and our new slogan. The new VisorCentral logo is part of our site redesign that will occur later this month, but you can wear it now.

Proceeds from the sales go to enhancing VisorCentral. We have big plans for improving the Visor experience, such as audio & video interviews and product demonstrations at the upcoming 2001 PC Expo, and with the proceeds from sales, we can make VisorCentral better than ever.

Click here to visit the Cafe Press VisorCentral section.






Update: Auction Update / VisorAdventure 2
Thu Oct 11 - 12:05 AM EST

InnoGear PowerCradle (updated)
Tue Oct 9 - 10:51 PM EST

iambic Office suite
Thu Oct 4 - 1:12 AM EST

Prism dropped to $299
Tue Oct 2 - 6:19 PM EST

New Portable Keyboard
Tue Oct 2 - 4:46 PM EST

Body Massager Module (updated)
Tue Oct 2 - 4:38 PM EST

Module Madness
Tue Oct 2 - 4:34 PM EST

New version of FlashAdapter software
Mon Oct 1 - 11:02 PM EST

Get Documents To Go with Visor purchase
Mon Oct 1 - 10:42 PM EST

SnapNType initial impressions
Fri Sep 28 - 10:11 PM EST

What's this? A new poll?!
Fri Sep 28 - 9:57 PM EST

Palm Desktop for Mac OS X by "the end of the year"
Thu Sep 27 - 2:36 PM EST

Going Corporate: Handspring partners with Aether
Wed Sep 26 - 6:19 PM EST

SnapNType Mini-Keyboard Available
Mon Sep 24 - 5:19 PM EST

Blazer 2.0 Beta
Mon Sep 24 - 4:42 PM EST