VC-Poll: Upgrading results
Friday October 27, 2000 - 4:03 PM EST - By James Hromadka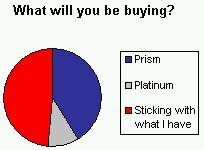 Whenever a new product comes out, the first thing a user must decide is whether to upgrade or not. So in our last poll we asked you what you were going to be doing. Surprisingly, over half of the respondents will be upgrading, with the vast majority of upgrades going to the color Prism. Here are the numbers, and we also have a pie chart to put things in perspective.

Prism 41.09 % (348)
Platinum 10.39 % (88)
Sticking with what I have 48.52 % (411)
Total votes: 847

Our next poll is on which wireless provider you're most interested in. I personally am not sure at this point, but time will tell.







Update: Auction Update / VisorAdventure 2
Thu Oct 11 - 12:05 AM EST

InnoGear PowerCradle (updated)
Tue Oct 9 - 10:51 PM EST

iambic Office suite
Thu Oct 4 - 1:12 AM EST

Prism dropped to $299
Tue Oct 2 - 6:19 PM EST

New Portable Keyboard
Tue Oct 2 - 4:46 PM EST

Body Massager Module (updated)
Tue Oct 2 - 4:38 PM EST

Module Madness
Tue Oct 2 - 4:34 PM EST

New version of FlashAdapter software
Mon Oct 1 - 11:02 PM EST

Get Documents To Go with Visor purchase
Mon Oct 1 - 10:42 PM EST

SnapNType initial impressions
Fri Sep 28 - 10:11 PM EST

What's this? A new poll?!
Fri Sep 28 - 9:57 PM EST

Palm Desktop for Mac OS X by "the end of the year"
Thu Sep 27 - 2:36 PM EST

Going Corporate: Handspring partners with Aether
Wed Sep 26 - 6:19 PM EST

SnapNType Mini-Keyboard Available
Mon Sep 24 - 5:19 PM EST

Blazer 2.0 Beta
Mon Sep 24 - 4:42 PM EST