Hawkins hints at non-PalmOS products
Wednesday March 28, 2001 - 2:43 PM EST - By Staff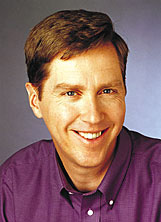 In a recent interview with Business 2.0, Handspring co-founder Jeff Hawkins hints at the possiblity of using another OS besides Palm in the future.
"The standard answer is that we're very happy with Palm-and I mean that. All the products we want to build today, we can build with Palm OS. But our relationship is such that we could either license or build another operating system if we wanted to. Long-term, if Handspring grows as large as I think it will-which is very large, because we want to be the leader in mobile computing devices, and I think the future of personal computing is mobile computing-then it's almost certain that we will have products that won't run Palm OS. But that's not a product announcement."
Hawkins has hinted at non-Palm OS products before. Could we see a Visor running Windows CE or some other OS in a year? Sure would make the VC forums interesting.






Update: Auction Update / VisorAdventure 2
Thu Oct 11 - 12:05 AM EST

InnoGear PowerCradle (updated)
Tue Oct 9 - 10:51 PM EST

iambic Office suite
Thu Oct 4 - 1:12 AM EST

Prism dropped to $299
Tue Oct 2 - 6:19 PM EST

New Portable Keyboard
Tue Oct 2 - 4:46 PM EST

Body Massager Module (updated)
Tue Oct 2 - 4:38 PM EST

Module Madness
Tue Oct 2 - 4:34 PM EST

New version of FlashAdapter software
Mon Oct 1 - 11:02 PM EST

Get Documents To Go with Visor purchase
Mon Oct 1 - 10:42 PM EST

SnapNType initial impressions
Fri Sep 28 - 10:11 PM EST

What's this? A new poll?!
Fri Sep 28 - 9:57 PM EST

Palm Desktop for Mac OS X by "the end of the year"
Thu Sep 27 - 2:36 PM EST

Going Corporate: Handspring partners with Aether
Wed Sep 26 - 6:19 PM EST

SnapNType Mini-Keyboard Available
Mon Sep 24 - 5:19 PM EST

Blazer 2.0 Beta
Mon Sep 24 - 4:42 PM EST