CompactFlash has arrived
Monday April 2, 2001 - 1:10 AM EST - By James Hromadka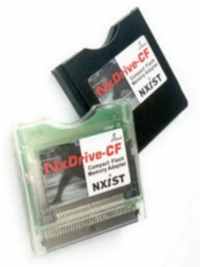 Do you remember the days when there weren't any CompactFlash Springboard modules available for the Visor? Me neither.

NXiST has developed the NxDrive-CF, the first certified CompactFlash module. This is the first CF module to have flash memory, allowing the backup and file management software to be stored on the NxDrive instead of the Visor. The software can also be updated in the future.

Another nice feature of the NxDrive is that you can hotswap CF memory while the module is still in the Visor. The NxDrive-CF is $49 and is available in Ice or Graphite colors.

NXiST also has available a Dual HotSync cable that connects to either a USB or serial port.






Update: Auction Update / VisorAdventure 2
Thu Oct 11 - 12:05 AM EST

InnoGear PowerCradle (updated)
Tue Oct 9 - 10:51 PM EST

iambic Office suite
Thu Oct 4 - 1:12 AM EST

Prism dropped to $299
Tue Oct 2 - 6:19 PM EST

New Portable Keyboard
Tue Oct 2 - 4:46 PM EST

Body Massager Module (updated)
Tue Oct 2 - 4:38 PM EST

Module Madness
Tue Oct 2 - 4:34 PM EST

New version of FlashAdapter software
Mon Oct 1 - 11:02 PM EST

Get Documents To Go with Visor purchase
Mon Oct 1 - 10:42 PM EST

SnapNType initial impressions
Fri Sep 28 - 10:11 PM EST

What's this? A new poll?!
Fri Sep 28 - 9:57 PM EST

Palm Desktop for Mac OS X by "the end of the year"
Thu Sep 27 - 2:36 PM EST

Going Corporate: Handspring partners with Aether
Wed Sep 26 - 6:19 PM EST

SnapNType Mini-Keyboard Available
Mon Sep 24 - 5:19 PM EST

Blazer 2.0 Beta
Mon Sep 24 - 4:42 PM EST