VisorPhone Preview
Features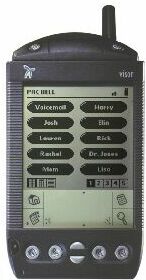 When I was at the 2000 PC Expo, I heard Jeff Hawkins' keynote where he spoke of the future of smart phones.  Although he told the audience that his vision wasn't necessarily Handspring's product line, I knew inside that nobody feels that strongly about something and doesn't follow through with their convictions.  Towards the end of September 2000, Handspring verified my gut feeling with the announcement of the VisorPhone, the first cellular Springboard module for the Visor and the Palm OS.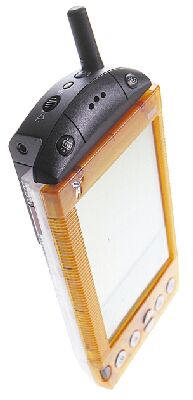 Here's a list of the features available for the VisorPhone.  Note that some of the features like voice mail may require additional charges from your provider:
GSM digital operation for static-free connections
Built-in software with easy access buttons for phone and messaging application
Caller ID
Call waiting
3-way calling
Speed dial
Call history (stores up to 1,000 messages)
Voice mail
SMS text messaging application
LED indicator
Slider switch for quick selection of ring type
Internal vibrating alert
Built-in jack for optional hands-free headset
Can operate as a wireless modem, for performing wireless synchronization and more

The VisorPhone has many ways there are to dial.  Tap any address book entry and select which number to dial, use a customizable speed dial list that lists entries by names instead of numbers, use a dial pad like a traditional phone, or use the call history to redial a previously used number.





Update: Auction Update / VisorAdventure 2
Thu Oct 11 - 12:05 AM EST

InnoGear PowerCradle (updated)
Tue Oct 9 - 10:51 PM EST

iambic Office suite
Thu Oct 4 - 1:12 AM EST

Prism dropped to $299
Tue Oct 2 - 6:19 PM EST

New Portable Keyboard
Tue Oct 2 - 4:46 PM EST






VisorCentral Awards 2001 - Day 11
Mon Oct 8 - 8:29 PM EST

Mr. Hromadka goes to Redmond
Mon Sep 10 - 4:39 AM EST

WordSmith 2.0 Preview
Tue Jul 10 - 9:06 PM EST

Open Desktop
Sat Jul 7 - 11:56 PM EST

VisorVision Explained
Mon Jul 2 - 12:10 AM EST

PC Expo Video Streams
Fri Jun 29 - 5:18 PM EST