FlashPlus and FAFileMover 1.4.2
Speed Improvements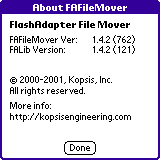 There have been a number of very exciting improvements coming out of Kopsis Engineering particularly when it comes to the speed of copy operations.  While the FlashPlus module I received had FAFileMover and FALib version 1.4.0 on it, I received a copy of version 1.4.2 (released on 6/25/2001).  Of course, one of the great things about the FlashPlus module is that it's Software is updateable, so flashing the module was a snap.  I hotsync'ed the Updater, ran it, and now my FlashPlus Module is updated to the latest version.   

Dave Kessler say that the following changes were made:
1.4.1 - Revised CF bytes used/free computation to improve speed when copying multiple databases to CF. Fixed driver problems when used with CF cards larger than 64MB.
1.4.2 - FALib optimization to speed up CF read/write operations.
Initially, these seem like modest improvements from a modest guy.  But, I ran my benchmarks again and was astonished to see the results.  If your concerned about speed like Kopsis Engineering is, you'll be very happy.  This is one of the benefits of an module like the FlashPlus, the software will be constantly updated, and every once in a while, you'll see improvement like this.  These results were achieved on an un-accelerated Visor Prism with the CFTiming Setting set to "Max Speed."
| | | | |
| --- | --- | --- | --- |
| Test | FlashPlus 1.4.0 | FlashPlus 1.4.2 | % Improvement |
| 1.5 meg file from card to memory | 33 | 21 | 36% |
| 1.5 meg file from memory to card | 1:04 | 15 | 77% |
| 4 250k files from card to memory | 24 | 17 | 29% |
| 4 250k files from memory to card | 44 | 10 | 77% |
| 40 files, 2.5 megs total from memory to card | 1:05 | 50 | 23% |
| 40 files, 2.5 megs total from card to memory | 1:30 | 45 | 50% |
| 228 files, 6 megs total from memory to card | 37:20 | 17:30 | 53% |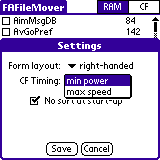 FAFileMover does some optimizations in the background, hidden from the users. But you do have some control.  
For example, in the Settings dialog there is an option for CF Timing. You can select Max Speed or Min Power. According to Kopsis Engineering, CompactFlash cards allow you to select the power level they should run at. Higher power levels are faster but will drain batteries quicker. The range available depends on the CF card itself. 
For example, a 4MB Kodak card offers two settings, 28mA to 32mA, while a 64MB SanDisk card offers 8 settings from 48mA to 76mA average peak current. FAFileMover defaults to the lowest power setting. By changing this setting you can make it default to the max speed setting. On cards with a small range of settings, it may not make much difference. But on a larger SanDisk card, max speed reduced write times by 41%! So, while this may not affect Visor Prism users as much, since we can top off our rechargable batteries anytime, Visor Deluxe users may want to be aware and avoid sucking those AA's dry. 


User Opinions


| | | | |
| --- | --- | --- | --- |
| | 100% | | 0% |
10 votes registered
Product Details
Name: FlashPlus and FAFileMover 1.4.2
Company: Innopocket

Price: $49.99





Update: Auction Update / VisorAdventure 2
Thu Oct 11 - 12:05 AM EST

InnoGear PowerCradle (updated)
Tue Oct 9 - 10:51 PM EST

iambic Office suite
Thu Oct 4 - 1:12 AM EST

Prism dropped to $299
Tue Oct 2 - 6:19 PM EST

New Portable Keyboard
Tue Oct 2 - 4:46 PM EST