FlashPlus and FAFileMover 1.4.2

Software

The FlashPlus includes two applications - FAUtil and FAFileMover.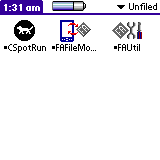 FAUtil - This is the "check it out" app that you run anytime you insert a new or strange CF Card into your MatchBookDrive. If it doesn't pass muster in this app for whatever reason, don't even try using the other apps. I've tried five CF Cards ranging in size from 4 megs to 64 megs without incident. Note in the screen shot that the CFCardInfo application has recognized my 16 meg card as a SanDisk SDCFB-16.  It also shows details like how many "heads" and "cylinders" this card has. Remember, that a CF Card looks like a hard drive, and doesn't really have physical heads and cylinders - it has "logical" heads and cylinders.
FAUtil also supports both Quick and Full Formatting of CF Cards. If you format your CF Card with this App, then insert your card later into a laptop or CF Card adapter, it looks just like a Standard FAT (File Allocation Table) File System. Basically, it's DOS Compatible. This is useful, because you can have .PDB and .PRC file along side your other .DOC and .WHATEVER files. You don't have to dedicate a CF Card to just your Visor files.
FAFileMover - Its list of features is very complete, and it does a great job as an all around file management utility for Palm Databases. FAFileMover has been improved a lot lately, and the most significant change has been the addition of support for an arbitrary depth of Directories.  This has been a most welcome addition. File copying includes the obligatory progress bar, and it provides sufficient status, although an "overall progress" bar would be a great addition when copying a large number of files.  Perhaps two progress bars on the same dialog would be nice, one showing the current file and one showing overall progress. FAFileMover shows the progress for the current file only, and the competing MemPlugCF shows the progress overall for the entire operation, but having two would be ideal.


User Opinions


| | | | |
| --- | --- | --- | --- |
| | 100% | | 0% |
10 votes registered
Product Details
Name: FlashPlus and FAFileMover 1.4.2
Company: Innopocket

Price: $49.99





Update: Auction Update / VisorAdventure 2
Thu Oct 11 - 12:05 AM EST

InnoGear PowerCradle (updated)
Tue Oct 9 - 10:51 PM EST

iambic Office suite
Thu Oct 4 - 1:12 AM EST

Prism dropped to $299
Tue Oct 2 - 6:19 PM EST

New Portable Keyboard
Tue Oct 2 - 4:46 PM EST