Geode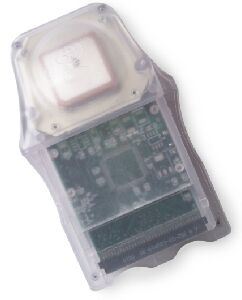 Life isn't about where you're going, it's all about what you're going to do when you get there.  The Geode GPS module by GeoDiscovery lets you know there's a small town up ahead, but more importantly it lets you know what to do while you're there.

The Hardware

Here are the specifications for the Geode:

GPS Warm Start: < 8 seconds
GPS Cold Start: < 38 seconds
GPS Initial Location Start: < 45 seconds
Receiver: L1, C/A code
12 Channels
Max. Solution Update Rate: 10 per sec
100 ms Satellite Reacquisition Time
Minimum signal tracked -175dBW
Maximum Altitude < 60,000 feet
Protocols Supported: NMEA** v2.2, SiRF ASCII & Binary



Now for the details.  The Geode uses a SiRFstar II based GPS receiver with FoliageLock technology that improves accuracy in areas where GPS signals can get boxed over rocks, trees, buildings, etc.  By using this chip and the Wide Area Augmentation System (WAAS) of satellites and stations, the Geode is accurate to within two meters.  Click here for more information on WAAS.  And with the digital compass, you can at least know which way you're facing even when you don't have a satellite fix.
Included in the Geode package are two AA batteries and a special hard cover that fits any Visor.  The hard cover is clear and slides onto the front of the Visor, protecting the screen from the elements.  You can still press the Visor's power button and simply slide the cover down when you need to tap on the Visor's screen.  I was surprised how well the hard "sliding cover" works with the Prism -- inside.  GeoDiscovery needs to make a special Prism version of the cover so that Prism owners can finally use their Prisms outside.  I think people would even buy one separately just for that reason alone.  I know I would.
That's the packaging of the Geode.  The module itself is the most elegantly designed Springboard module I have ever seen, although somewhat large.  The uniquely domed antenna has the GeoDiscovery logo engraved into it.  The translucent (ice) Geode has contoured edges so that is comfortable to hold, even though it adds significant weight to the Visor.  The Geode looks like the Starship Enterprise, with its antenna as the "saucer section" and two MMC slots as the nacelles.
When inserted, there are a few lights that blink on the bottom of the Geode, adding to its Star Trek look.  According to GeoDiscovery, the bright flash means that the GPS receiver is talking to the DSP (Digital Signal Processor) and the DSP is talking over the Springboard bus to the Visor. The dim flash is the DSP performing normal operations.
There are two applications used with the Geode: GeoView Mobile and Geode Info.


User Opinions


| | | | |
| --- | --- | --- | --- |
| | 62% | | 38% |
53 votes registered
Product Details
Name: Geode
Company: GeoDiscovery
Size: 2.4" x 4.3" x 1.2"
Weight: 5.7 oz. w/ batt.
Memory: 3 K on Visor when inserted (GeoView maps take extra)
Map Storage: on Visor or MMC
Accuracy: 2-3 m
Color: No
Hard Cover Compatible: No (special cover included)
Price: $289.00





Update: Auction Update / VisorAdventure 2
Thu Oct 11 - 12:05 AM EST

InnoGear PowerCradle (updated)
Tue Oct 9 - 10:51 PM EST

iambic Office suite
Thu Oct 4 - 1:12 AM EST

Prism dropped to $299
Tue Oct 2 - 6:19 PM EST

New Portable Keyboard
Tue Oct 2 - 4:46 PM EST