eyemodule2
Slide Show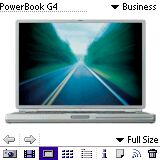 Now back to the em2 application.  The third button is for viewing any pictures on your Visor.  Tap the left and right arrow buttons or use the up/down hardware buttons to scroll through all images in the selected category.  Here I have an image that I transferred to my Visor using eyedrop.  I may not have a PowerBook G4 yet, but at least I can carry it on my Visor and dream!

I wish that there was a loop option; it doesn't go to the first picture after after reaching the last picture -- you manually have to backstep photo by photo to the beginning.  This also happens if you use the Slide Show (Options | Slide Show).  I should also mention that the slide show is fixed at about four seconds per slide with no way to adjust it.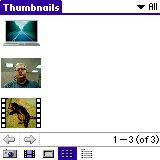 The fourth button lets you view your images in thumbnail format.  This makes it convenient when you have many pictures but are looking for a particular one.  Up to nine thumbnails are shown on screen.
The fifth button is the Image List, which lets you beam, delete, or downsize multiple pictures at one time.  You can downsize a 640x480 picture so that it is Palm size.  You cannot "super-size" your Palm size images or reverse the procedure.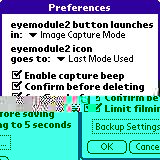 Rounding out the buttons are Image Info, Note, Beam, and Delete.  Select Options | Preferences to adjust default settings for when you insert the eyemodule2 or run the eyemod2 application, as well as backup settings and a few others.