eyemodule2
eyecontact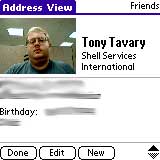 Now that you know how to take pictures, install eyecontact from the installation CD or download it.  Eyecontact is easily one of the most useful applications you will find for the Visor.  Using the same database that AddressBook uses, eyecontact lets you embed images into a contact so that you can "put a face to the name."  Eyecontact looks like AddressBook in almost every way except for a few extra options.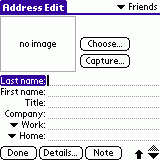 To embed an image into a contact, either edit an existing entry or create a new one.  Tap Choose if you have already taken the picture or Capture to take a new picture with the eyemodule2.  If you are choosing an existing picture, a thumbnailed listing of pictures appears.  Select the one you want and a small image will now appear inside that contact entry.  Tap on a thumbnail and it will display the original picture full screen.
What I really liked about eyecontact is that I can delete the original picture to save space (leaving the thumbnail intact) and that thumbnails only take up about 8 KB in space for each picture.  A special eyecontact database stores all of your thumbnails, and the eyecontact application itself is just over 100 KB in size.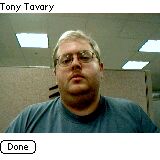 When looking at your address listing, entries that have a picture will have a (

) icon next to them.  I have already reassigned my AddressBook hardware button to use eyecontact (this is also an option), and best of all, you don't actually need the em2 to use eyecontact.  You can use the desktop application eyedrop to transfer pictures from your computer to your Visor and then select that image as a thumbnail.  This is very useful if you want to use PhotoShop to remove the background from a picture before embedding it into eyecontact.
Pictures, Pictures, Pictures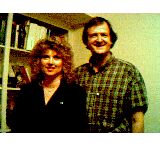 They say that a picture is worth a thousand words, so I'll include some VGA photos here for your perusal.  Most of these are in poor lighting, because let's face it -- that's the true test of the em2.

All of the above pictures are untouched.  As you can see the em2 does a much better job of working in poor lighting, but still isn't as good as it should be.  If there is an eyemodule3, it better have a flashbulb or be able to take pictures well in low lighting.  Night Vision would be cool too!


User Opinions


| | | | |
| --- | --- | --- | --- |
| | 69% | | 31% |
16 votes registered
Product Details
Name: eyemodule2
Company: Blocks Products
Size:
Weight:  1.1 oz.
Color: Yes (16-bit)
Hard Cover Compatible: No
Price: $199.00





Update: Auction Update / VisorAdventure 2
Thu Oct 11 - 12:05 AM EST

InnoGear PowerCradle (updated)
Tue Oct 9 - 10:51 PM EST

iambic Office suite
Thu Oct 4 - 1:12 AM EST

Prism dropped to $299
Tue Oct 2 - 6:19 PM EST

New Portable Keyboard
Tue Oct 2 - 4:46 PM EST