"Plug & Play" Compact Flash
Friday May 25, 2001 - 2:50 PM EST - By Marcus Adolfsson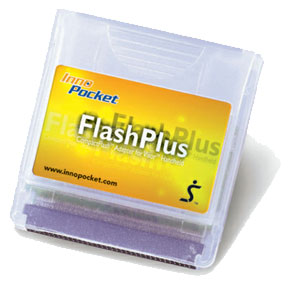 InnoPocket today announced a "Plug & Play" Compact Flash Springboard Module, the FlashPlus.

FlashPlus has the following applications built-in:

FAFileMover
Let users move file (e.g.Maps,e-Books,Picture,Applications and Databases etc...) for visor to compact flash card instantly and vice versa.

CspotRun
View Doc file in the Compact Flash memory card directly.View e-Book downloaded from internet in visor.

FAUtil
Allow users to do quick or full format the Compact Flash card directly any test the memory card

The FlashPlus Module costs $49.90 and will be available on June 1st.

NXiST is also currently working on a Compact Flash module with built-in flash memory.







Update: Auction Update / VisorAdventure 2
Thu Oct 11 - 12:05 AM EST

InnoGear PowerCradle (updated)
Tue Oct 9 - 10:51 PM EST

iambic Office suite
Thu Oct 4 - 1:12 AM EST

Prism dropped to $299
Tue Oct 2 - 6:19 PM EST

New Portable Keyboard
Tue Oct 2 - 4:46 PM EST

Body Massager Module (updated)
Tue Oct 2 - 4:38 PM EST

Module Madness
Tue Oct 2 - 4:34 PM EST

New version of FlashAdapter software
Mon Oct 1 - 11:02 PM EST

Get Documents To Go with Visor purchase
Mon Oct 1 - 10:42 PM EST

SnapNType initial impressions
Fri Sep 28 - 10:11 PM EST

What's this? A new poll?!
Fri Sep 28 - 9:57 PM EST

Palm Desktop for Mac OS X by "the end of the year"
Thu Sep 27 - 2:36 PM EST

Going Corporate: Handspring partners with Aether
Wed Sep 26 - 6:19 PM EST

SnapNType Mini-Keyboard Available
Mon Sep 24 - 5:19 PM EST

Blazer 2.0 Beta
Mon Sep 24 - 4:42 PM EST