MemPlug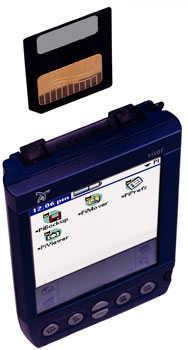 Some product reviews are complicated, some are easy. Let me start this review of the MemPlug from Portable Innovation with this: The MemPlug is awesome. Now that's out of the way. Let's find out why.

We've seen solutions for the Visor using Compact Flash memory. We've reviewed the MatchBookDrive [review] and the InnoPocket [review] . Each solution was a not a true Springboard, but rather an Adapter. They required you to install additional software via a HotSync. 

A true Springboard is plug and play, and installs and uninstalls appropriate software automatically. Kopsis Engineering created a shared library and the FAFileMover software that allows files to be copied back and forth between the CF card and the Visor's internal memory. 

The CompactFlash FAFileMover works well, but there is no Picture Viewer software for JPEGs, no included Backup solution - you get the idea. 

 Solutions are getting better, but it's going to be a little while before software support improves for CF Cards on the Visor. The adapters from MatchBookProducts and InnoPocket are well-made, but they aren't the kind of products you'd see at Circuit City or Staples. We'll hope to see improvements in CF Adapter technology soon...we'll need to, because the MemPlug has just raised the bar for Visor memory adapters!

Then, from out of nowhere comes the MemPlug from Portable Innovation Technology. The MemPlug is beautiful. I popped it in my Visor, inserted a 32 Meg SmartMedia card and five software apps showed up automatically. In seconds I was playing a movie on my Visor Prism. Unbelievable!