UPD: Car Adapter for Emergency Charger
Wednesday December 27, 2000 - 11:47 PM EST - By James Hromadka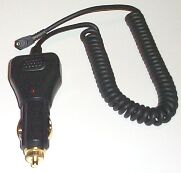 Yesterday I received from Tech Center Labs the car adapter for the Emergency Charger for the Visor Prism.

The Car Adapter stretches a good three feet and is very well made. One side has a power LED and the other has a slot for an E fuse (included).

The Car Adapter ($19.00) connects to the Charger Adapter (sold seperately) and should be available this week.

Now my new goal is to add a headphone jack to my car so I can listen to my MiniJam through my car's speakers non-stop with zero skipping. "Damn the potholes! Full speed ahead!"


If anyone has instructions on how to do this let me know or post it here to the Accessories Forum.

Related stories: Charging Module, Experience Deja Vu, UPD: Car Adapter for Emergency Charger, Charge your Prism in your car (upd), Emergency Prism charger, FullCharge, Emergency Charger, TaleLight, VisorCentral Awards 2001 - Day 11,




Update: Auction Update / VisorAdventure 2
Thu Oct 11 - 12:05 AM EST

InnoGear PowerCradle (updated)
Tue Oct 9 - 10:51 PM EST

iambic Office suite
Thu Oct 4 - 1:12 AM EST

Prism dropped to $299
Tue Oct 2 - 6:19 PM EST

New Portable Keyboard
Tue Oct 2 - 4:46 PM EST

Body Massager Module (updated)
Tue Oct 2 - 4:38 PM EST

Module Madness
Tue Oct 2 - 4:34 PM EST

New version of FlashAdapter software
Mon Oct 1 - 11:02 PM EST

Get Documents To Go with Visor purchase
Mon Oct 1 - 10:42 PM EST

SnapNType initial impressions
Fri Sep 28 - 10:11 PM EST

What's this? A new poll?!
Fri Sep 28 - 9:57 PM EST

Palm Desktop for Mac OS X by "the end of the year"
Thu Sep 27 - 2:36 PM EST

Going Corporate: Handspring partners with Aether
Wed Sep 26 - 6:19 PM EST

SnapNType Mini-Keyboard Available
Mon Sep 24 - 5:19 PM EST

Blazer 2.0 Beta
Mon Sep 24 - 4:42 PM EST