VisorCentral Awards 2000
General Accessory of the Year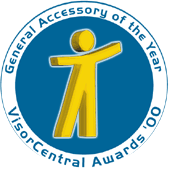 Springboard modules get most of the press, but the Visor also owes much of its livelihood to general accessories which are available.  Keyboards, screen protectors, cables, etc. are all very valuable Visor products.  The winner of the General Accessory of the year needs to not only be useful, but also demonstrate creativity and ingenuity in its design.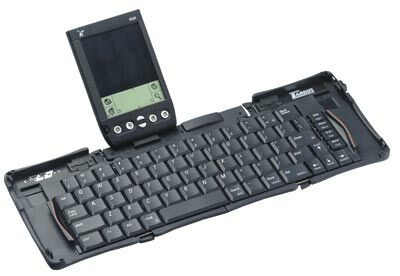 Winner: Targus Stowaway keyboard
If there ever was a handheld product that could turn heads, it would be the Targus Stowaway keyboard.  This innovative product is a full size QWERTY keyboard that folds neatly down almost to the size of the Visor itself.  Handheld computers are becoming more and more ubiquitous in our everyday lives, and products like the Stowaway make lengthy documents quicker and easier to enter into your handheld.
James: This is the perfect keyboard for students and businessmen alike.  I always hated taking notes during class because my hands cramped, but with the Stowaway I was finally able to take notes quickly and easily; students and corporate users can type in their notes quickly and email them to others later.

Marcus: The WOW factor of this year's general accessory is remarkable. It's quite a sight when pulling the two sides apart and seeing a full-sized keyboard unfold.  Perfect for taking notes or writing memos on the road, Targus' Stowaway is a great addition for any road warrior's arsenal.
Honorable Mention: Landware GoType! Pro
As with all things, Product A may be good for one person, while Product B is more suitable for another.  Such is the case for the Landware GoType! Pro.  It seems more durable than the Stowaway, and with a lower price and excellent software, the GoType! Pro should be at the top of any keyboard list.





Update: Auction Update / VisorAdventure 2
Thu Oct 11 - 12:05 AM EST

InnoGear PowerCradle (updated)
Tue Oct 9 - 10:51 PM EST

iambic Office suite
Thu Oct 4 - 1:12 AM EST

Prism dropped to $299
Tue Oct 2 - 6:19 PM EST

New Portable Keyboard
Tue Oct 2 - 4:46 PM EST






VisorCentral Awards 2001 - Day 11
Mon Oct 8 - 8:29 PM EST

Mr. Hromadka goes to Redmond
Mon Sep 10 - 4:39 AM EST

WordSmith 2.0 Preview
Tue Jul 10 - 9:06 PM EST

Open Desktop
Sat Jul 7 - 11:56 PM EST

VisorVision Explained
Mon Jul 2 - 12:10 AM EST

PC Expo Video Streams
Fri Jun 29 - 5:18 PM EST