VisorCentral Awards 2000
Stylus of the Year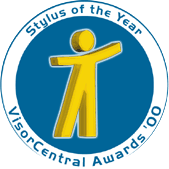 When it comes down to it, no matter how advanced the Visor is, no matter how great those Springboard modules are, you have to have something to write with.  Some styli are complete replacements for the stylus that comes with the Visor, while others have the ability to function as a pen or pencil.  The winner of the Stylus of the Year not only improves handwriting recognition, it also has the right proportions so it doesn't feel like a light toothpick.

Winner: PDA Panache Visor Custom stylus
PDA Panache has always been a leader in the stylus arena, making the extremely popular Black Nail for the original PalmPilot and continuing its high quality with the Visor Custom stylus.  It is the standard by which all replacement styli are judged.  It's perfect weight and handy reset pen make it the perfect writing instrument for your Visor.
James: When I had a Palm III, I had the custom stylus for the Palm.  Now I have the version for the Visor.  The Visor Custom stylus feels great to hold, and its signature orange tip is easy to see when writing.

Marcus: The PDA Panache Visor stylus was one of the first 3rd party styli for the Visor, and still holds the lead. While its top could be improved to work better with the Visor's stylus holder, all other elements of the stylus makes it a worthy winner.
Honorable Mention: Handspring Visor Stylus 5-pack
Now shipping with all new Visor handhelds, the Visor Stylus should have been originally bundled with all Visor handhelds. The styli fits perfectly in the Visor, and the hidden reset pin and tiny screw driver makes the Visor Stylus a useful tool for those that love to tinker with their Visor.





Update: Auction Update / VisorAdventure 2
Thu Oct 11 - 12:05 AM EST

InnoGear PowerCradle (updated)
Tue Oct 9 - 10:51 PM EST

iambic Office suite
Thu Oct 4 - 1:12 AM EST

Prism dropped to $299
Tue Oct 2 - 6:19 PM EST

New Portable Keyboard
Tue Oct 2 - 4:46 PM EST






VisorCentral Awards 2001 - Day 11
Mon Oct 8 - 8:29 PM EST

Mr. Hromadka goes to Redmond
Mon Sep 10 - 4:39 AM EST

WordSmith 2.0 Preview
Tue Jul 10 - 9:06 PM EST

Open Desktop
Sat Jul 7 - 11:56 PM EST

VisorVision Explained
Mon Jul 2 - 12:10 AM EST

PC Expo Video Streams
Fri Jun 29 - 5:18 PM EST