VisorCentral Awards 2000
Application of the Year
Just yesterday, Palm announced its 100,000 developer for the Palm operating system.  With thousands of applications available at websites such as PalmGear and Handango, no wonder Handspring came out with an 8MB model of the Visor (which is still not enough).  With so many applications available, there is almost always one that fits your particular needs.  The winner of the Application of the Year not only fits a need, it does it in an intuitive way and takes the Visor one step closer to replacing the desktop computer.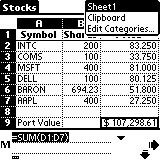 Winner: QuickSheet 5.0 by Cutting Edge Software
This amazing application brings your Microsoft Excel spreadsheet files to your Visor with the greatest of ease.  With over sixty built-in functions and chart capability, QuickSheet is as robust as a desktop spreadsheet but manages to retain the Palm philosophy of simplicity.
James: I use QuickSheet to keep all of my records on the Visor that I need to have at all times.  It has so many features, that like its desktop counterpart, I could never hope to use them all!
Note:  Due to VisorCentral's past focus on hardware and accessories, there will not be an Honorable Mention in this category.  Next year we will expand our software reviews so that we may offer our readers a broader view of the applications available.

Springboard Module of the Year >>






Update: Auction Update / VisorAdventure 2
Thu Oct 11 - 12:05 AM EST

InnoGear PowerCradle (updated)
Tue Oct 9 - 10:51 PM EST

iambic Office suite
Thu Oct 4 - 1:12 AM EST

Prism dropped to $299
Tue Oct 2 - 6:19 PM EST

New Portable Keyboard
Tue Oct 2 - 4:46 PM EST






VisorCentral Awards 2001 - Day 11
Mon Oct 8 - 8:29 PM EST

Mr. Hromadka goes to Redmond
Mon Sep 10 - 4:39 AM EST

WordSmith 2.0 Preview
Tue Jul 10 - 9:06 PM EST

Open Desktop
Sat Jul 7 - 11:56 PM EST

VisorVision Explained
Mon Jul 2 - 12:10 AM EST

PC Expo Video Streams
Fri Jun 29 - 5:18 PM EST