VisorCentral Awards 2000
Product of the Year
When the Visor was announced, no one could have known all of the great products that would be coming out this year alone.  At this moment, VisorCentral has almost sixty full reviews done, and almost all of those products deserve to be in these awards.  This number will hopefully double next year.  The winner of the Product of the Year not only made the Visor easier to use, but raises the bar for handheld products and is appealing to all users.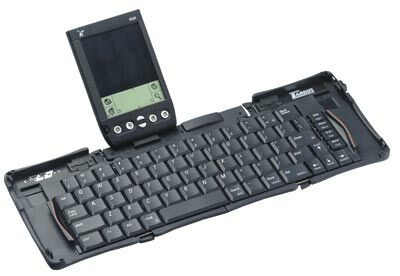 Winner: Targus Stowaway keyboard
The Stowaway, which also won General Accessory of the Year, is one of the most groundbreaking products ever made for any handheld -- not just the Visor.  This folding keyboard gives users the ability to carry a something that's not much bigger than the Visor itself, yet unfolds to become a full-size keyboard.  This product has won many other awards this year, and Think Outside and Targus are going to need to make room for yet another well-deserved award.
James: This product has raised the bar in portable computing.  Handheld users can now carry their Visor in one hand and their keyboard in the other hand -- not under their shoulder.
Honorable Mention: Handspring Backup Module
While not as glamorous as some of the other Springboard modules available, the Backup module is certainly the most useful.  If anyone has ever lost important data, this $40 lifesaver can be there to pull it back into your Visor.  Don't leave home without it!





Update: Auction Update / VisorAdventure 2
Thu Oct 11 - 12:05 AM EST

InnoGear PowerCradle (updated)
Tue Oct 9 - 10:51 PM EST

iambic Office suite
Thu Oct 4 - 1:12 AM EST

Prism dropped to $299
Tue Oct 2 - 6:19 PM EST

New Portable Keyboard
Tue Oct 2 - 4:46 PM EST






VisorCentral Awards 2001 - Day 11
Mon Oct 8 - 8:29 PM EST

Mr. Hromadka goes to Redmond
Mon Sep 10 - 4:39 AM EST

WordSmith 2.0 Preview
Tue Jul 10 - 9:06 PM EST

Open Desktop
Sat Jul 7 - 11:56 PM EST

VisorVision Explained
Mon Jul 2 - 12:10 AM EST

PC Expo Video Streams
Fri Jun 29 - 5:18 PM EST