VisorCentral Awards 2001 - Day 11
Product of the Year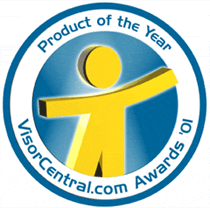 There have been many great products released for the Visor in the last year. These Springboard modules and accessories have made the Visor indispensible to millions of users. The Product of the Year advances the Visor's appeal and functionality.

Winner: FlashAdapter by Kopsis Engineering
One of the original marketing campaigns for the Handspring Visor highlighted its "infinite expandability." The FlashAdapter software, developed by David Kessler, made good on that promise by giving users the ability to store applications and data on CompactFlash cards. Users could either build a CF Adapter themselves or purchase a premade CF Adapter (and later a Springboard module) from a growing list of companies. At one time it seemed as though a new company each week was making CF adapters that worked with the FlashAdapter software. Kopsis has fueled the interest by releasing steady updates to the software, including support for VFS. No other product has garnered such interest in the Visor community over this past year.
Hromadka: The FlashAdapter software made the Visor a contender in the enterprise market. Other external memory solutions have since been released, but Kopsis was there first. It seems like only yesterday that the Visor had zero external memory solutions; now there are several, and much of it is owed to the FlashAdapter software.
Honorable Mention: VisorPhone by Handspring
What else is there to say about the VisorPhone? It is a great product that ahead of its time. One day smartphones will be the norm, and the VisorPhone will be looked to as one of the first elegant solutions that made smartphones intelligent.
Last year's winner: Stowaway keyboard
This concludes the 2001 VisorCentral Awards. It has been quite a year for Handspring, with many ups and downs. The Visor continues to gain acceptance, with Springboard modules becoming more useful as opposed to just cool. With new products on the way, the best is yet to come.