VisorCentral Awards 2001 - Day 11
Accessory of the Year, Carrying Case of the Year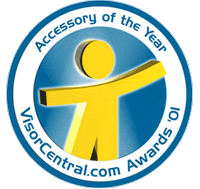 When one thinks of the Handspring Visor, the first thing that comes to mind is Springboard expansion. However, that is not the only means of expanding the Visor's capabilities. Keyboards, cables, and the like are very valuable products and add to the appeal of the Visor. The Accessory of the Year needs to not only be useful but also demonstrate creativity and ingenuity in its design.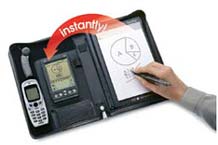 Winner: SmartPad2 by Seiko Instruments

The SmartPad2 is the perfect 'tween product for users that want the added capabilities of the Visor but also want to be able to scribble notes down. Using a special pen, users jot down notes, drawings, etc. on a tablet; these drawings are then stored electronically on the Visor for future use or archival purposes.

[Streaming Video Demonstration from PC Expo / Download]

Hromadka: This is the perfect product for all the Franklin Covey holdovers that want to store information electronically yet cannot make a clean break from pen and paper. The case for the SmartPad2 is very nicely designed and allows users to carry additional items such as a cell phone.

Adolfsson: What I also like about the SmartPad is that under the notepad there is a keyboard layout. Using the pen, you can tap on the "virtual keys" of the keyboard layout for fast data entry.

Honorable Mention: Emergency Charger by Tech Center Labs

Should American Express ever lose its trademark, the phrase "Don't leave home without it" would most certainly apply to the Emergency Charger. What makes this product so useful is the sheer number of options users have when it comes to recharging. Hopefully solar charging will come soon!

Last year's winner: Targus Stowaway keyboard

---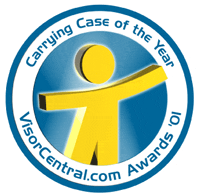 The Visor is fairly sturdy, but sometimes users want extra protection or want to give the Visor a unique identity that is all their own. Carying cases provide extra protection and can be stylish to boot. The Carrying Case of the Year needs to provide decent protection in a winning package.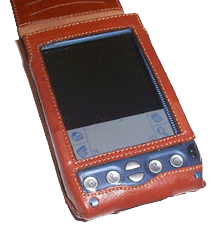 Winner: Vaja Flip Top Case (Prism) by Vaja Cases
Vaja has been making cases for a while now, but this is the first case to use magnets to keep the flip cover shut. This makes opening and closing the case very easy, and because there is no snap or velcro, this is a case that does not disturb others when using it during a meeting.
Hromadka: This is my day-to-day case. The magnetic enclosure makes this truly a "flip-top" case, and the high quality Argentinian leather cannot be beat. Add to that options such as a sewn-in Graffiti chart and you have a winner.
Honorable Mention: Slipper Prism by E&B Company
Want a wallet replacement? The Slipper Prism lets users carry cash, credit cards, etc. in a case that adds very little to the Prism's size at an affordable price.
Last year's winner: Rhodiana Visor Case

Application of the Year, Communications Module of the Year >>